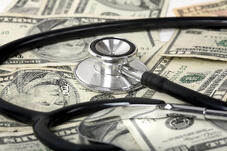 We all know that employer-sponsored wellness programs are effective at extending quality of life by maintaining good health and reducing health risks that can worsen over time. Companies also obtain financials savings from implementing wellness programs. For instance, for every dollar spent on wellness, medical costs are reduced by $3,27 and absenteeism costs are reduced by $2.73.
The 2012 UBA Health Plan Survey results show that smart employers are capitalizing on the benefits of wellness programs: Nearly 60% of employers with 1,000 or more employees offer wellness programs and even smaller employers with 50-99 employees showed the largest increase and fastest growth in adopting these programs.
Aside from the obvious health benefits and health care cost savings to employers, an employee's wealth can also benefit from personal wellness. Here's how the concept works:
• Illness can reduce retirement readiness by increasing the amount of savings that will be needed to cover health-related costs
• Dollars that could have gone into savings have been used to pay for current healthcare expenses
• This not only endangers an employee's ability to retire as planned, but also the quality of life they may face during their retirement years
United Benefit Advisors will be hosting a HR webinar presented by the Principal Financial Group, titled Personal and Financial Wellness, that will more closely examine the tie between physical and fiscal well-being on Dec. 6 at 2:00 pm ET/ 11:00 am PT. The webinar will review the top 3 trends shaping retirement planning: employees aren't saving enough, retirees are living longer, and health care costs are rising, leaving less discretionary income." Additionally, this program will also discuss how incorporating a financial component into pre-existing wellness programs creates a more comprehensive wellness solution for employees.

Ultimately, unhealthy lifestyles lead to increased health care costs for both employers and employees - and extend those added costs throughout an employee's retirement years. Be sure to register now to learn how to successfully link health and financial wellness for optimal results in your organization. Enter code UBAPFW when registering and view this webinar for FREE!