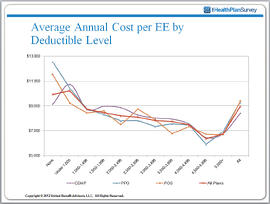 Holly Parsons
The Wilson Agency, A UBA Partner Firm
An important step that's often overlooked when buying health insurance is benchmarking your plan to what others are doing in your industry, group size and region. The analysis can give you a much better idea what current trends are, further options available to your group and how you compare with others.
United Benefit Advisors recently released the largest health plan benchmarking survey in the nation. Among many of the trends revealed, it included insight into consumer-driven health plans (CDHPs). There has been a lot of press about them lately for the sheer reason that they are effectively helping many companies reduce their health insurance premiums while also providing employees an avenue to either save for retirement or offset cost of care through a pretax account.
The benchmark survey demonstrated this cost-savings assessment, with an average total cost less than any other type of plan and 6 percent less than the average of all plan types. This lower cost was carried through on the premium share with employees paying a lower percentage of this price tag than other plans. The average annual premium increase for CDHPs over last year was 4.7 percent, slightly less than the average of 5 percent. I would expect to see this always be less than average if it's living up to its promise. If it isn't, then the first thing to look at is how employees are getting educated about it. CDHPs require a strong education and communication element.
CDHPs are the most popular plan type offered in the Northeast, where enrollment in CDHPs was also the strongest, followed by the North Central and Southeast CHDP offerings. They are the least popular in the West, probably because of the strong prevalence of HMOs. This year, employers with 25-49 employees were the largest adopters with 26.2 percent versus those over 1,000 employees who had the smallest percent of CDHPs offered to their employees of 16.4 percent.
What does this mean for your group? Hard to say. Each group is different, and each plan has pros and cons to it. CDHPs generally work best for employers that are looking for the lowest monthly premiums, have employees who can afford to pay the initial out-of-pocket costs or be able to fund the pretax account up front, are willing to retain and submit documentation for reimbursement and possible tax audit, and are looking for tax-free savings for medical expenses. Most importantly, for these and all other plan types to be successful in bending the medical trend curve, employees and their families must learn to be good medical consumers and focus on becoming more healthy overall. "To learn more about whether CDHPs are right for your company, talk with your benefit advisor to get an assessment of your plan and options.
Have you implemented a CDHP in your group? What cost savings have you experienced?