The shift from traditional office environments to telework hasn't just put a strain on businesses unaccustomed to remote work—it's a major adjustment for employees as well. Current circumstances aside, working from home already presents new challenges that typical commuters may find themselves unprepared for. When combined with the stress and anxiety of the coronavirus pandemic, workers' mental health and performance can seriously suffer.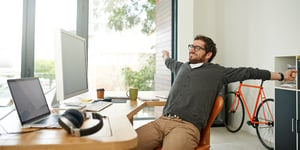 That's why self-care is now more important than ever. Working in the midst of a crisis means employees need to prioritize their mental health and ensure they're taking extra precautions to mitigate stress. As company leaders of health and wellness initiatives, it's crucial that HR representatives lead by example and demonstrate the importance of self-care, especially when it's the HR team that's potentially the most overworked from the complications of COVID-19. Here are a few self-care tips you and your company can use to maintain mental health and well-being while working from home.
1. Practice Desk-ercise
With the daily commute no longer needed, plus the closing of gyms and fitness studios nationwide, most office workers are more sedentary than ever. Remaining active during quarantine can be difficult, especially with most states implementing a stay-at-home order, so it's important to get in some sort of physical activity wherever possible. One simple, efficient way to do this is through "desk-ercise," or easy stretches you can perform at your desk to get blood flowing and to relax tight muscles. These can include basic neck rolls, shoulder shrugs, wrist curls and quarter squats.
2. Designate Workspaces
Whether it's an entire room, or even just a specific desk or chair, it's important to designate spaces that are for work and spaces that are for relaxation. Without these designations, remote employees typically have a poor work-life balance. For example, don't open your work laptop and start the day while still in bed—set up a space that you have to enter to get work done. You'll not only be more productive, but establishing that boundary will help you relax and decompress when the workday is finished.
3. Let the Light In
Under quarantine, most of us aren't getting the fresh air and sunshine we're accustomed to—a serious detriment to our mental health. It's important to combat this by taking brief, regular walks or jogs during breaks. Additionally, be sure to open some windows and set up your home office in sunlight when you're working indoors. It may not seem like much, but the spring air and natural light can work wonders for our state of mind.
4. Breathe or Meditate
In this stressful time, it's important to take time to unplug and recharge your mental batteries. One of the best ways to do this is through deep breathing exercises or guided meditation. There are countless apps and online resources for either of these techniques (Calm and Headspace are two popular choices for meditation), and many of them are offering free or discounted trials due to COVID-19.