With the upcoming decade bringing new benefit opportunities, open enrollment, and brand new positions, the future looks bright for businesses of every size and sector. But as the world looks to 2020 and beyond, some finance experts say the next decade won't be all smooth sailing.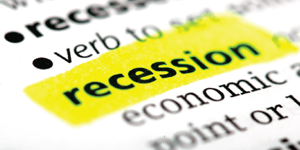 While unemployment rates have hit record lows since the last labor recession in 2009, experts say we could very well be headed into a new recession. One poll conducted just last August found that nearly three out of four economists surveyed by the National Association for Business Economics expected a recession by 2021.
Nearly nine million Americans lost their jobs during the last recession. The unemployment rate peaked at 10 percent. More than 170,000 small businesses closed. And it could very well happen again—perhaps even this year or next.
So what can your HR team do to prepare for a possible 2020 recession?
Flexible Staffing Approaches (With a Dash of Confidence)
If we're indeed faced with a recession in the next few years, many businesses may reduce hours to 30-hour workweeks, which limit costs while still preserving business, sales, and production continuity.
While this can be an effective strategy, it's also critical to maintain confidence in your team and business, even in the face of uncertainty. This separates the company's success from failure more than any other factor. The biggest danger in a company experiencing falling demand and profit is panic. When C-level teams begin to talk urgently about headcount and cutting non-essential costs, senior management is often thrown into a frenzy of cost-cutting.
Prepare for Outsourcing
A great way to cut costs and prepare for an impending labor recession is to audit your labor and decide what tasks can be outsourced.
So many Americans think of outsourcing as a dirty word – but it no longer means simply sending your work out of the country. Thanks to cloud-based technology, many office tasks can be completed from virtually anywhere.
By developing an outsourcing strategy, your business is taking steps to be more agile and flexible in the face of a possible economic downturn. Outsourcing can even lead to a stronger bottom line, so your senior management has more time and resources to spend on things like strategy and research.
Embrace and Early-Adopt Technology
If you've been holding off on implementing new technology at your organization, Leesa Schipani, SHRM-SCP and partner at KardasLarson LLC, believes that now is the time to make the move—before a downturn potentially takes effect. Similar to outsourcing, embracing AI technology can help free up employee time to focus on complex customer and business issues. Embracing a technology-first approach to business operations is one of the simplest ways to safeguard against a labor recession.
Does your organization have a plan for a labor recession? Share this article on social media and get the conversation started!