If your CEO's Gmail calendar looks more like a colorful bar graph than a few simple meetings, it can be difficult to capture and retain their attention. Your "C-suite" (CIOs, CEOs, CTOs, CMOs, CFOs, etc.) have a lot of responsibility placed on their shoulders and are likely involved in many key decisions throughout the day. They are often pulled in many directions as managers and directors try to get buy-in for their next program or initiative. In such a fast-paced environment where each minute matters, how can you be efficient and get the latest and greatest programs off the ground?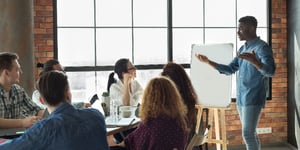 Getting your own agenda in line with your CEO's is crucial, but studies show that not enough employees are doing it, particularly those in middle management. The latest Randstad Sourceright Talent Trends survey found a glaring disconnect between talent leaders and their executive among 700 human capital and C-suite leaders in 15 key markets around the world. Today we're sharing a few insights to help bridge this gap and align with any member of the C-suite team.
Align Your Programs to Business Strategy
When the C-suite is considering your pitch or proposition, they will be cross-checking your key points to see if they are aligned with the company's overarching business strategy and financial goals. Crafting your pitch with this in mind, and predicting what questions will be asked, is key to a successful presentation. Some points to consider as you're developing your presentation are your company's goals for:
Profit generation
Business growth
Revenue advancement
Operational efficiencies
Risk management and mitigation
Another good way to be prepared is to anticipate questions. Depending on who is in the room during your meeting, you may hear things like: How does this program increase sales, decrease costs, improve efficiency or reduce risk? What is the projected ROI? What are the operating costs? Anticipating these types of questions and knowing the answers will make you look more prepared and help achieve a better outcome.
Identify Key Players
Often, winning over the CEO or CMO will not be enough when it comes to new initiatives, especially when they are coming from HR and involve company or hiring policies. Many times, your C-suite team will be reporting to a board of directors before any decisions are made. If there is no board present, there may be external partners or customers who are key decision makers that will weigh in. It's a good idea to do your research and tailor your program objectives to fit any of the above audiences.
Be Your Own Project Manager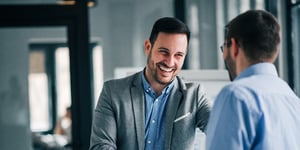 We are all familiar with how jam-packed leadership schedules can be. Setting reasonable expectations for your own agenda with plenty of milestones along the way is key to a successful launch, whether you have a brand new idea or are kicking off this year's benefits roll-out. Leave a little bit of cushion in your timeline that allows for absences, unexpected deadlines, or shifting priorities among the C-suite team.
Putting It All Together
If you're broaching a new idea to your leadership team, preparation is your strongest tool. Understand how your initiative strengthens the company's broader strategy or business objective, and explicitly demonstrate how in a clear and efficient way. Remember all of the key stakeholders and audiences that could be affected by your plan—executives need to understand how it could impact every aspect of their business. Finally, be your own project manager, outlining preliminary milestones and timeline for the C-suite to consider. Put it all together, and you're well on your way to having your idea come to life.