Were you one of the lucky ones to catch Brené Brown's keynote at the Society for Human Resource Management Annual Conference? If not, don't worry. Many HR publications took notes on what this five-time best-selling author, whose most recent TED Talk has 41 million views and climbing, had to say.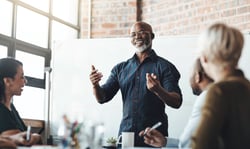 It all comes down to two words: brave leadership. Making change and, as she calls it, rehumanizing work, is the task of true brave leaders.
Leaders need the courage to have tough conversations. Talking to people who made mistakes, instead of talking about people's mistakes takes courage. It takes courage to pause before action, considering what strategy can work in the moment and also prevent the problem from happening again. This might mean letting ambiguity linger longer than many solution-oriented leaders are used to, says a recap in Workforce.
Brave leaders cannot simply get rid of fears, especially those around failing, and according to Brown, they shouldn't. Instead, real leaders are willing to look deeply into — not around — fears. They recognize innovation is born of failure and encourage failing forward as a cultural norm. Normalizing failure as part of the process helps people be, as Brown puts it, "responsible for their own bounce." Per HR Dive, that bounce is the resiliency to move past embarrassment or fear that surrounds anything other than success.
To be a brave leader means creating a brave organization, one that is diverse and inclusive not just in name but in practice. Diversity and inclusion start at the top. It's the continual work of management and leadership, not the new diverse hire, to start and continue conversations around inclusion.
Courage is being vulnerable, and it's "teachable, observable and measurable," according to Brown. While strength and confidence are hallmarks of good leadership, she argues that vulnerability is a key component to human work and build strength and trust in teams, especially when modeled from the top.
Brown also smartly points out that these elements take training. Setting HR team members and managers up for success by developing their skillsets around hard conversations, resiliency, and more is an ongoing requirement. For new employees, she recommends onboarding them with nods to the company's brave leadership culture so they can feel empowered to fail forward, bounce back, and move through challenging moments.
Read More:
Brené Brown at SHRM Conference: 'Leaders Are Never Quiet About Hard Things'
Brené Brown on 6 Problems That Arise Without 'Brave Leadership'