Finding the right people to successfully execute in the workplace is the core responsibility of HR, but research shows it is becoming increasingly difficult to vet candidates manually. To compound this challenge, recruitment is flooded with hundreds or thousands of resumes to wade through (many of which are unqualified), and this is not the best use of their time.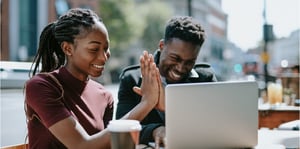 Screening efficiently is one of the biggest pain points for HR and recruiters: 52% of talent acquisition leaders identify accurate skill-matching as the hardest part of their job.
If your company hasn't done so already, it's time to leverage automation to ensure accurate skill-matching. Often a whitepaper resume does not provide a comprehensive look at a candidate's skill set, resulting in poor placement. This placement becomes a chain reaction that leads to high employee turnover rates. Let's review ways to reverse and prevent this trend by precisely targeting the right people with the right skills for the job.
Leveraging Automation
Automation like chatbots can cut your time up front in finding the right candidates. Software like Gloat harnesses the power of natural language chat to connect job seekers with new job opportunities entirely anonymously. The technology available here matches user-generated information with desired skill sets from relevant job listings.
Another great example is Restless Bandit, which algorithmically connects candidates to new positions within an organization's existing database. The big benefit to this: qualified candidates who've applied to a company previously are much more likely to respond to a recruiter than those who are cold-called.
Timely Response to Automation
These are just two examples of great software but hundreds are currently available to any size organization. Applicant tracking and algorithmic matching make it easier for you to contact candidates who are great matches to your high-skill jobs, but the final responsibility rests on your team to respond and bring candidates to an interview in a timely fashion. In today's world of nearly instantaneous communications, applications sitting in limbo can be a deterrent for candidates.
Going Beyond the New Hire
Although automation can be a great asset on the front end, it's important to see skill-matching as an open conversation once a new hire is onboarded. Too often job descriptions are delivered to a new hire's desk without consideration of their interests or goals that may apply to a career advancement or support another need within the organization.
Initiating quarterly reviews where employees can share their aspirations and skills they are developing outside of work can help guide a path to career advancement.
Does your company use automation to assist in the hiring process? Share this link on social media using the buttons below and get the conversation started.
Link Index:
How AI in HR and Recruiting is Becoming 'The Future of Talent Acquisition'
AI For Recruiting: A Definitive Guide For HR Professionals