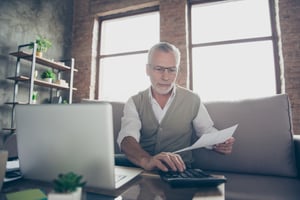 In a recent column in Human Resource Executive, Carol Harnett reminds us that humans are notoriously poor at evaluating risk. We don't always focus on the major problem, or weigh compromising factors correctly. Quoting risk-communications consultant Peter Sandman, Harnett suggests that risk should be evaluated using this formula: Risk = Hazard + Outrage.What does that mean? Hazard is the anticipated annual mortality rate, and all other factors fall under outrage. "The public," says Sandman, "pays too little attention to hazard; the experts pay absolutely no attention to outrage. Not surprisingly, they rank risks differently." Consequently, experts and the public choose insurance differently too.
History helps us understand the current situation. In the 20thcentury, as employee-benefits costs increased, so did financial consequences for employers, resulting in a national shift toward cost-sharing with employees. This change, along with the advent of buffet-line health care plans, tasked employees themselves with assessing risk. Fast-forward to today, when one bad decision (a sub-par health care plan), coupled with a sudden accident (a sudden trip to the emergency room) can not only bankrupt employees but also permanently reduce their income. In other words, from a place of good health and diverse budgetary needs, it can be easy to accept lesser healthcare in favor of supporting children or paying education bills, for example. But once an emergency occurs, finances are immediately and usually permanently compromised. In some situations, this is an extreme take, but more frequently it isn't, especially as the workforce ages and Social Security is strained. It's easy to imagine how these problems can multiply and irrevocably damage a working environment too.


So according to Harnett, supporting employees with disability insurance isn't just a question of efficiency over time. It's a question of ethics and contemporary grounding too. She mentions President Franklin Delano Roosevelt's 1944 proposal for a "second bill of rights," which entitled citizens to adequate medical care, the ability to achieve and enjoy health, and the right to adequate protection from economic fear. Hard-working employees without these rights are often in crisis that goes far beyond a single month of tight budgeting. Harnett urges employers that don't already offer co-paid disability insurance to employees to reconsider. If one person learns to better evaluate and respond to risk, we'll all be stronger at home, at work, and in the future.
Find out more:
Human Resource Executive:Why Disability Insurance Matters
Employee Benefit News: How to revamp your disability program