Nearly every large employer offers some type of wellness program, but if your team feels you've "been there, done that," maybe it's time to revisit your definition of wellness. With the expansion of mindfulness, meditation, and yoga in the west, modern wellness applications are so much more than just eating veggies and stepping on a scale.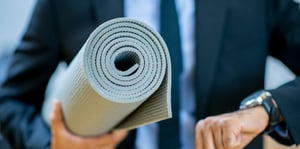 Corporate wellness is an eight billion dollar industry in the United States, and the projections for the next five years are even bigger. The time is now to get on board! Whether you're opting for a traditional program incentivizing weight loss or ways to quit smoking, or if you're revamping to focus more on holistic wellbeing, corporate wellness benefits both the employer and the employee.
Benefits to Employers
When employees are allowed to make wellness a priority, the result is reduced healthcare costs for employers. A study from the University of Louisville found that every dollar invested in a wellness program amounted to $7 in healthcare savings. Can't argue with that!
Another savings area is the amount of out-of-office time you'll be reducing when employees feel motivated to tackle a healthier lifestyle. Once your team sees a reduction in the amount of sick days, absences, doctor appointments, and even short- or long-term leave, it will become clear that your program is worth investing in.
Defining Wellness Beyond the Carrot
In today's world, health and wellness means thinking beyond just losing weight and exercising more. Research shows that when employees experience wellness in an integrated sense — spiritually, financially, intellectually, and socially — companies see a spike in productivity that moves the bottom line. It is important to understand that these aspects are connected.
A holistic wellness program that examines a number of areas helps to address the root cause of health problems rather than just the symptoms. For example, many employers may offer stress management programs leading to less workplace friction, but in the long-term additionally reduce hypertension and heart disease. A holistic and comprehensive program with an eye to the long game helps your staff address improved performance and overall wellbeing.
We all know the hardest part is getting employees invested and participating. Below we'll look at a few thought-starters for getting your staff motivated to take better care of themselves, and aim for higher performance.
HSA/FSA/HRA Contributions
Get your employees excited about your program with tangible rewards such as monthly premium discounts or contributions to their health savings accounts (HSAs) or health reimbursement arrangement (HRAs).
A way to do this is through a tiered and interactive program. To get started, employers offer to partially or totally fund their employees' HSAs – but with a catch. For example, in the first year, an employer might credit the account by $500. Then, the following year, the employer might require employees to complete a health risk assessment to receive the next level of $1,000 contribution. Then in the third year, the employer might bump up the requirements by including biometric testing or some other type of wellness indicator to receive the $1,500 credit.
Premium Reductions
Everyone knows health insurance can be costly. Why not incentivize your team with discounts applied directly to their premium for health and wellness? Simple benchmark ideas are passing biometric standards for blood pressure, cholesterol, glucose, or body mass index (BMI). When employees see the reduction in their costs month over month they will be more motivated to continue on the journey toward a healthier lifestyle.
What does your company do to incentivize workplace wellness? Share this link on social and get the conversation started.
Link Index:
In U.S., Engaged Employees Exercise More, Eat Healthier.
Every dollar invested in a wellness program amounted to $7 in healthcare savings.