If you've been considering developing a social responsibility plan for your company in 2020, now is the perfect time. Experts are predicting that the future of success for organizations lies in their ability to make a marked difference in their community — an initiative that is directly tied to boosting the bottom line.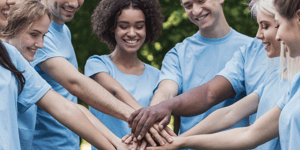 This sentiment was summarized in Deloitte's emerging 2019 Global Human Capital Trends report, which noted that in order to be successful, organizations need to go beyond merely fulfilling their initially stated corporate social responsibility goals. According to Deloitte's report, there is a profound shift happening to business leaders worldwide: the rapid rise of what is now referred to as "social enterprise." This shift reflects the growing importance of social capital in shaping an organization's purpose, guiding its relationships with stakeholders, and influencing its ultimate success or failure.
The reason for this shift in perception is that 2019 has brought on an intensifying combination of economic, social, and political issues that are challenging business strategies. Faced with the never-ending acceleration of artificial intelligence, cognitive technologies, and automation, 86 percent of respondents to Deloitte's Global Human Capital Trends survey believe they must reinvent and pivot where they are allocating energy, and what they are learning from. For respondents, this looked like more investment in social responsibility, diversity, and environmental issues.
In order to integrate this sentiment into your 2020 corporate business plan, it's important to remember that social enterprise is beneficial not only for influencing your bottom line but also for creating an attractive employer brand. When your company's external corporate social responsibility is successfully combined with growing social capital within your networks, you'll start to onboard better candidates, clients, customers, and projects. The data is plentiful to support this insight. In fact, one recent study found that as many as 86 percent of U.S. consumers expect companies to act on social and environmental issues and 87 percent will buy a product because a company advocated for an issue they cared about.