Each year can bring new challenges for successfully implementing and marketing a modern employee benefits package. Participation is critical—without it, companies cannot offer the kind of benefit savings that they are expected to. Add this to the state of the "talent crisis" as it stands with the current job market, and your HR team has quite a tall order. There are many skill shortages in today's labor market, which makes it easier for employees to jump from job to job in search of better compensation and benefits.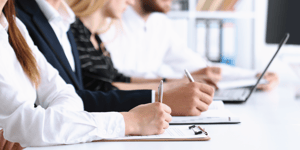 Because of this, companies need to make employee benefit marketing a priority in order to attract and retain their best team members. As it turns out, a little organization goes a long way when you are planning what is going to be most attractive to your employees in 2020.
1. Turn Employees into Brand Ambassadors
Designating one employee to be the gatekeeper of your brand is the trick to getting everyone else on board. While senior leadership or HR promoting a brand is expected, leveraging a key influencer from your own team is the key to making your message stick. Appoint one of your team members with great leadership skills and understanding of your product and have them set up webinars or lunch-and-learn sessions with your team to review benefit changes and options for 2020.
2. Use Portals and Third Party Websites
Email campaigns, newsletters, and portals are going to be your friend when it comes to distributing a unified message to all employees and outlining the next steps and action items that need completion. When you can get all of your communications in one place, you'll have better response times from team members and greater rates of participation.
3. Enlist the Support of Benefit Plan Administrators
Employee benefit plan administrators can be essential in managing and helping your team, though many companies don't use them to their fullest potential. Benefit plan administrators can act as project managers for getting your entire team reaching benefit milestones.
4. Use Common Sense.
Your company doesn't have to be Google to provide a benefits plan people care about. In fact, research shows that employees care more about the basics benefits than the haircuts or sleep pods Google provides its employees. Providing sensibly-costing insurance, plenty of sick time, and vacation goes a long way when you're determining what your benefits package will offer. In fact, things like time off or an occasional work-remote policy consistently rank higher on the list of items employees actually care about, compared to boutique offerings like yoga or nap rooms.