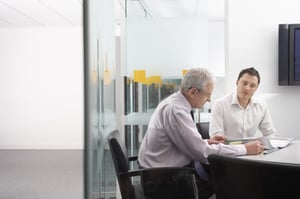 Why does quality offboarding matter so much? After all, someone is leaving your company, not joining it. The reasons lie in shifting employee lifecycles, modern recruitment, and a need to reflect company values at all personnel touch points — especially in a tight labor market.
In generations past, job tenure was often measured in decades. Today turnover rates are their highest in years, the Association for Talent Development reminds us, with tenure measured not in decades or even years, but often months. Therefore, it may be time to not just onboard better but engage in what is called high-impact offboarding. Companies can learn critical lessons about their own areas of improvement, have the opportunity to foster better relationships with former employees, and earn the respect of current team members when individuals leaving the company are provided a thoughtful exit.
Departing team members can be important for future employees, and business, in several ways. They are incredibly valuable resources during the transition, and they are more likely to help — and potentially be available even after they leave for a question or check in — if they feel respected and valued. If a new hire or internal move is made before they leave, there are opportunities for mentorship and knowledge sharing made better by a happier exiting employee.
Additionally, former employees may leave reviews on job sites, offer peer reviews of a job experience, and generally act as ambassadors to your company says an article in HR Dive. They can also be sources of direct referrals if they've left with a positive feeling about a company and want to recommend working there. This may mean sending potential talent a job description with a note on why to apply or offering a vetted introduction between an individual and HR.
Referrals may send along new business opportunities, as well. Perhaps someone in their network needs the service or product you provide, or their new company needs a partner in an area you serve. First-hand referrals go a long way, and a network of former employees sending them your way may benefit both your hiring practices and your new business pitches.
Don't forget, a former employee can most certainly be an employee again someday. "Boomerang" employees leave a company — for a new opportunity, to go back to school, to freelance, or for other reasons — and return. Often, this return brings new skills or experiences that make them an even better asset to the team says Harvard Business Review. Rehiring is a real and often smart option since these individuals already have deep institutional knowledge and a track record. Your company will be more competitive in rehiring them if they left on a positive note.
Your current team members are watching how you offboard, too. An article in The Cut tells individuals who've given notice to be mindful to transfer their work thoughtfully or ensure it's in a good place to have someone else take over. A transition article in Forbes reminds exiting employees about their responsibilities. These tips are applicable to HR teams, too. Creating a thoughtful process to document institutional knowledge held by a leaving member is something companies should be doing long before an employee gives notice. Keep things upbeat — take time to praise the contributions of the individual in genuine and authentic ways. Give consideration to ways work can be balanced between remaining team members until a position is filled, and ensure those plans don't create frustration and resentment. All of these practices show your current team that you care about the people who work at your company. That thoughtfulness instills confidence and fosters engagement.
While positive offboarding is a no-brainer for people HR teams are sad to see go, an involuntary separation is a trickier matter. Smart offboarding here starts with proper documentation, mutual respect, and showing the utmost discretion. It also means ensuring HR is in the meeting to follow protocol, articulate reasoning, and answer question about next steps.
Letting someone go thoughtfully also lets your employees see that underperforming workers and bad behavior aren't tolerated, which ultimately can boost team morale. Boost it more by showing that all people are treated decently and compassionately. In the instance of termination, HR Dive tells us that allowing an employee to leave in a dignified way is important for current employees to see the respect their managers have for every individual.
Two ways to get started with high-impact offboarding include creating a corporate alumni group. Groups of this kind offer opportunities to stay connected to fellow former employees and the company itself. These groups serve as touchpoint for new talent through recruitment and networking tools for everyone involved.
Additionally, there are also valuable lessons to learn by conducting an exit and even post-exit interview. If an employee left under high emotion — whether by their own choice or not — offer an interview at a later date. You may learn critical fail points that led to the employee not being successful that can be improved in the future. For leadership roles and hard to replace positions, understanding what led them to leave can help you improve the job in the future to better retain top talent.
Whether you start with these two options or other offboarding options, creating a better experience is an ongoing process. Start, iterate, and improve to reap the benefits now and in the future.
Read more
Manage the Resignation Tsunami
How to Fire Employees Compassionately
How to Offboard Employees With Care
Your Company Needs a Process for Offboarding Employees Gracefully
Job Seekers: How To Gracefully Quit Your Job
How to Quit Your Job — 10 Ways to Do It Gracefully