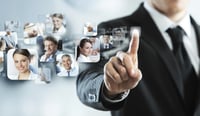 So far in our blog series we have discussed measuring success in communicating benefits as well as personalizing communications to employees and their needs. This month, we will look at how voluntary products have evolved to complement your overall benefit plan design.
Since 2005, there has been a steady surge in the number of employers offering a high-deductible health plan (HDHP) with a health savings account (HSA). Today, there are more than 20 million employees, according to American's Health Insurance Plans (AHIP), covered under HDHPs that require employees take on greater financial ownership of their health care decisions. UBA's Health Plan Survey reports that workers with family coverage had a median in-network deductible of $4,000 in 2016 (among families with HDHPs, the median, in-network deductible was $5,200). If that holds true in the center of the country, where the Bureau of Labor Statistics shows the average annual mean wage for all occupations in Kansas is $43,950, this gap could represent 10 percent of a family's salary.
These market conditions have opened the door for voluntary products like Critical Illness, Accident and Hospital Indemnity plans, to help employees manage the gap.
In the past, employers may have added voluntary products to the benefit plan in an ad hoc manner. There was little understanding, or explanation, of the integrated role voluntary products play in the larger plan design. There may have been employee surveys that indicated some interest, but with little follow-through in their explanation, enrollment of these products often produced poor results. (If that left you with a bad feeling toward voluntary products, please keep reading.) You may recall the same was true for HSAs at one time and may be true for new enrollees still. Do employees really understand how they work, and are they funding adequately to cover sudden, high medical expenses?
When considering integrating voluntary products into the offering, consider how they complement the underlying medical plan. For example, when employees experience a qualifying critical illness or accident claim, the dollars paid can help cover their deductible or out-of-pocket spend, perhaps even allowing their HSA account to stay intact.
Demographic data, in addition to salary and deductible amount, also contributes to your voluntary products decision-making.
AHIP reports that 40 insurers provided age data of enrollees. Approximately 21 percent of HSAs/HDHPs were under the age of 18; 11 percent were 18 to 24 years; 30 percent were 25 to 44 years; the majority at 35 percent were 45 to 64 years; and only 3 percent were age 65 and older.
While anyone at any age can have an accident, it seems to me that my nephews have sports accidents more frequently than I trip over a curb. Accident insurance may be especially appealing for families with high deductibles. Similarly, older workers may be interested in critical illness insurance, particularly if they have begun to see friends and family members cope with the financial side of illness.
If you haven't integrated voluntary products into your benefits plan already, consider these findings from Sun Life's employee survey.
Nearly nine in ten (86 percent) employees understand that changes in their health care coverage are creating gaps – and more than three in four (77 percent) are concerned about their financial risk because of these cutbacks.
Six in ten (63 percent) agree that voluntary benefits could be helpful in filling the gaps in their coverage, even if they have to pay for the benefits themselves.
The vast majority (88 percent) really like the idea of having other choices to customize their benefits package, saying more customized benefit choices that better fit their lives would help them feel like they made the right choice when choosing their plans (87 percent).
I mentioned earlier that voluntary products used to be added in an ad hoc manner, and participation was often low. This is no longer the case. Employees who have experienced sizeable change in their financial responsibilities are keenly interested in voluntary products once you explain the benefits to them.

In our earlier posts, we talked about both the concerns and lack of understanding employees can have regarding their financial risks. We also know it can be challenging for employees to navigate their foundational plans like medical insurance. Working with your consultants and using a multi-year approach can be extremely effective. This will help employees have access to financial protection through the voluntary products that complement their core medical plan. Over time, based on employee engagement, acceptance and feedback, you can continue to round out your total rewards package. Of course, the key—as always—is effective, personalized employee communication!