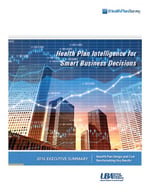 Among employer-sponsored health insurance plans, consumer-directed health plans (CDHPs) continue to increase in popularity even though they are offering less savings than a year ago, according to the 2016 Health Plan Survey from United Benefit Advisors (UBA), the nation's largest independent survey of employer-sponsored benefits. UBA finds 26.4 percent of all U.S. employees are now enrolled in CDHP plans, an increase of 21.7 percent from last year and nearly 70 percent from five years ago.
Conversely, CDHP plan costs have risen 2 percent from last year, according to UBA. So while they are still 3.5 percent less costly than the average plan, they offered more savings in 2015 when they were 5.6 percent less than the average plan.
"CDHP interest among employers isn't surprising given these plans' savings over the average plan," says Les McPhearson, CEO of UBA. "Employees typically pick up 32 percent of the cost, slightly below the 35 percent average employee contribution rate among all plans, making them an attractive choice for many employees as well. But like all cost benchmarks, plan design plays a major part in understanding value."
The UBA survey finds that 25.7 percent of plans offered by employers are CDHPs, a 14.2 percent increase in the last five years. Regionally, however, there are major differences in CDHP popularity.
UBA's survey finds CDHPs account for the following percentage of plans offered by employers:
| | |
| --- | --- |
| Northeast | 34.4% |
| North Central | 32.5% |
| Southeast | 26.6% |
| Central | 21.0% |
| West | 14.2% |
CDHPs have increased in prevalence in all regions except the West, which saw the number of these plans decrease by 7.2 percent from 2015. Despite this decrease in the number of CDHPs offered in the West, there was an 18.9 percent increase in the number of employees enrolled, indicating the continued attraction to the lower premiums of such plans.

While most of the country is experiencing slightly increased premiums, California has enjoyed an 11.4 percent decrease in average single premiums, finds UBA. Employers in this part of the country are actually moving away from CDHPs and toward HMOs, which the survey shows are 9 percent less costly than the average plan.

"Cost-saving strategies, like cost shifting, should be taken with a grain of salt, given the increased burdens they place on employees," says McPhearson. "Given the higher than average out-of-pocket costs of CDHPs, this turbulence in the West (who typically leads the nation in health care trends) indicates that employers and employees are still determining the value and success of these plans, making it a cautious upward trend to watch."

UBA's 2016 Health Plan Survey Executive Summary is available now at http://bit.ly/UBAsurvey or it can be downloaded directly at http://bit.ly/2016-executive-summary. For interviews, contact Carina Sammartino, Media Relations, csammartino (at) fishervista.com or 760-331-3547.

About the 2016 UBA Health Plan Survey
The 2016 UBA Health Plan Survey contains the validated responses of 19,557 health plans and 11,524 employers, who cumulatively employ over two and a half million employees and insure more than five million total lives. While other surveys primarily target large employers, the focus of the UBA survey is to report results that are applicable to the small and mid-size companies that represent the overwhelming majority of the nation's employers, while also including a mix of large companies in rough proportion to their actual prevalence, nationally. This is an important distinction compared to other national surveys.

About United Benefit Advisors
United Benefit Advisors® (UBA) is the nation's leading independent employee benefits advisory organization with more than 200 offices throughout the United States, Canada and the United Kingdom. UBA empowers more than 2,000 Partners to both maintain their individuality and pool their expertise, insight, and market presence to provide best-in-class services and solutions. Employers, advisors and industry-related organizations interested in obtaining powerful results from the shared wisdom of our Partners should visit www.UBAbenefits.com.