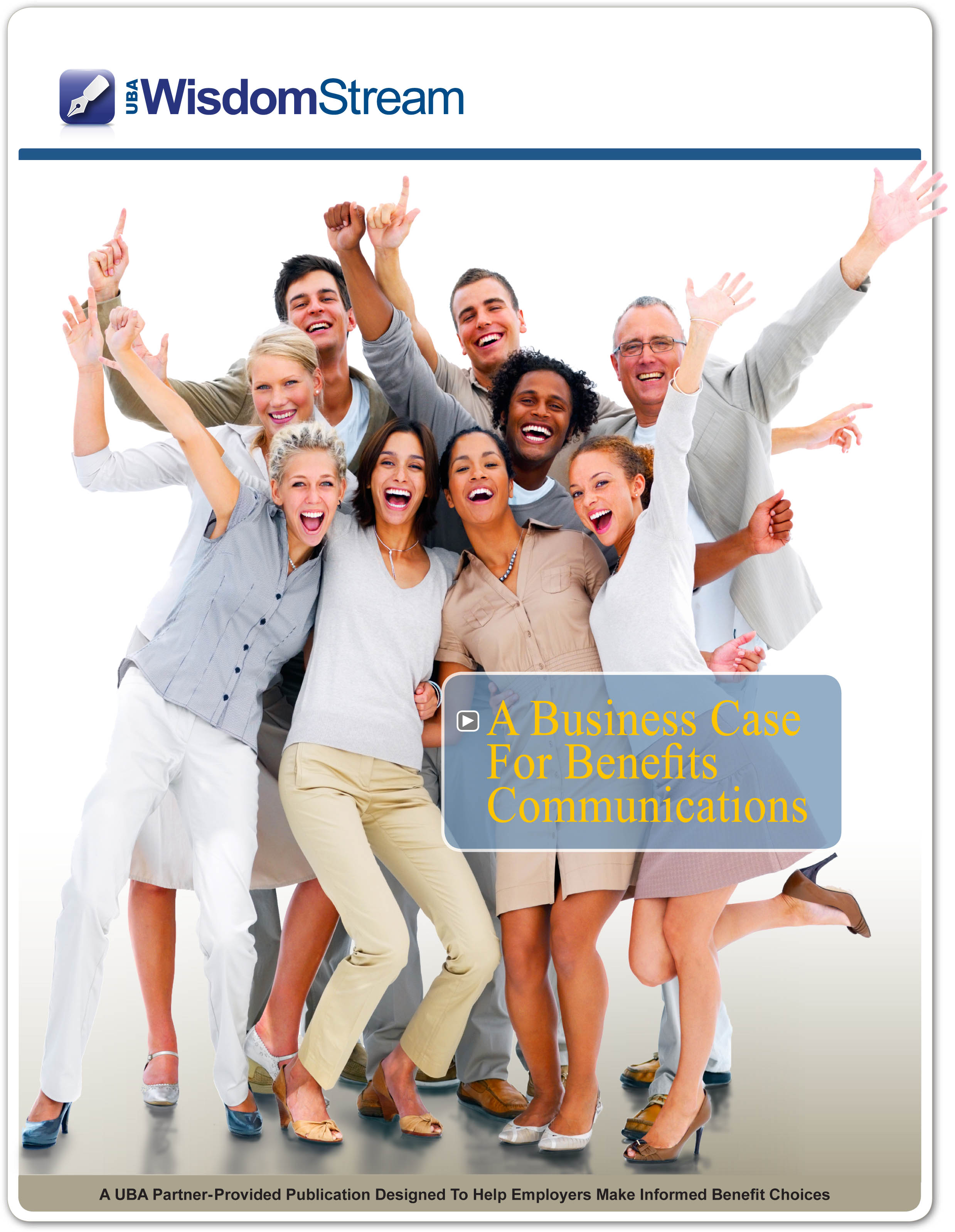 United Benefit Advisors offers a "Business Case for Benefits Communications," tools that are key to business success in the face of health care reform
Indianapolis, Ind., [June 4, 2014] -- United Benefit Advisors, the nation's leading independent employee benefits advisory organization, announces the release of "A Business Case for Benefits Communications," a comprehensive white paper that teaches employers how to help employees better understand (and appreciate) their benefits.
Countless studies show that employee engagement has a direct impact on a company's bottom line. According to a recent Gallup poll, 70% of American workers are either not-engaged or actively disengaged, which costs the US $450 billion to $550 billion in lost productivity per year.
"As the cost of employer-sponsored health insurance continues to rapidly outpace wages and inflation, now more than ever employers find the cost of unnecessary turnover or low presenteeism is very high," says Bob Recchia, president of California Corporate Benefits, a UBA Partner Firm in San Diego. "Working at improving employee engagement, retention and loyalty can provide enormous returns on very modest investments."
Single premiums for employer-sponsored insurance increased 48% from 2005 to 2013, according to the 2013 UBA Health Plan Survey, and 27% for families. Additionally, the survey results show that in that same time period, there was a 327% increase in adoption of HDHPs among employers, a trend that is expected to continue. The key to making HDHPs successful at cost savings, UBA finds, is making employees aware of how to use their benefits and take control of their health care consumption.
According to a recent survey from Colonial Life, a UBA Strategic Partner, three out of four employees say they need more education to understand how changes in their benefits affect their financial safety net. UBA's whitepaper addresses how best to reach them, what they need to know, and how they prefer to receive the information.
The white paper addresses several key areas, including:
HIDDEN PAYCHECKS
Total compensation statements, or "hidden paychecks," serve as excellent ways to inform employees about what the company is providing for them. These statements not only outline an employee's wages but also display the employer's contributions to benefit plans such as medical, life, retirement and more.
MAKING EMPLOYEES 'STEWARDS' OF THE PLAN
Sharing the financials associated with the health plan and other benefits help employees understand and become 'stewards' of the plans, wanting to become better consumers and help control costs. It's helping employees understand what they can and can't control in the health care puzzle.
BENCHMARKING DATA
Communicating benchmark data about how an employer's plan compares with those of other companies is another way to drive home the value of a benefits package.
"We use the benchmark data from UBA Health Plan Survey to compare not only benefits but contribution levels," says Andrea Kinkade, president/employee benefits advisor with Kaminsky & Associates, a UBA Partner Firm in Ohio. "We even use it during open enrollment meetings to illustrate how our clients' benefits and contributions levels are better than their peers. It is an extremely beneficial and key part of the renewal process as many companies struggle with what level of coverage to offer and how much cost sharing to include. When their benefits exceed the benchmarks, it is a great reminder to employees of just how good a medical program they have."
"Industry research has shown that employees have a positive perception of their benefits (even when the overall package is mediocre) if there is an excellent communications plan in place," says Gary Jurney, president of Kainos Partners, Inc., a UBA Partner Firm in Houston.
Employers serious about communicating the value of their benefits and plans and making it a cornerstone of their corporate culture should download a copy of the UBA white paper, "A Business Case for Benefits Communications," from: http://bit.ly/1gJR3GE.
ABOUT UNITED BENEFIT ADVISORS
United Benefit Advisors is the nation's leading independent employee benefits advisory organization with more than 200 offices throughout the United States, Canada and the United Kingdom. As trusted and knowledgeable advisors, UBA Partners collaborate with nearly 2,000 fellow professionals to deliver expertise, thought leadership and best-in-class solutions that positively impact employers and make a real difference in the lives of their employees and families. Employers, advisors and industry-related organizations interested in obtaining powerful results from the shared wisdom of our Partners should visit UBA online at www.UBAbenefits.com.

MEDIA CONTACT:
Carina Sammartino
fisherVISTA
csammartino (at) fishervista (dot) com
(760) 331-3547