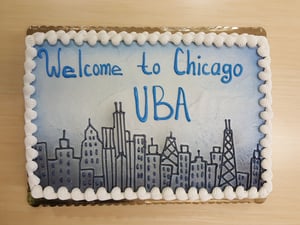 Chicago, IL.— April 16 2018—UBA is proud to announce our beautiful new global headquarters and office, now located in the Chicago Loop's historic Civic Opera House building on upper Wacker Drive. Here we are at home as a thriving business in the heart of the growing and in-demand Chicago metropolitan business district.
Fifteen years ago, visionary UBA co-founders David LoCascio and Chris John gathered with a small group of employee benefits professionals in Rosemont, Illinois. Together, they founded UBA Partners, an organization that would significantly enhance everyone's respective practices by allowing them to retain their local entrepreneurial values, all while receiving the benefits of a larger corporate connection.
Today, UBA has grown exclusive partnerships with more than 125 of the nation's premier independent employee benefit advisory firms. Previously, we supported these diverse groups from corporate offices in Indianapolis, Indiana, and a second office in the Chicago suburb of Itasca, and are now glad to consolidate staff and operational resources into a single office location. This hub now leads professionals, organizations, and families in 43 states, as well as Canada, England, and Ireland. UBA staff celebrated our bright future with a ribbon cutting and cake.
About United Benefit Advisors®
United Benefit Advisors® (UBA) is the nation's leading independent employee benefits advisory organization with more than 200 offices throughout the United States, Canada and the United Kingdom. UBA empowers more than 2,000 Partners to both maintain their individuality and pool their expertise, insight, and market presence to provide best-in-class services and solutions. Employers, advisors and industry-related organizations interested in obtaining powerful results from the shared wisdom of our Partners should visit www.UBAbenefits.com.