Corporate Sales Training Initiative Is Unique Within the Health Benefits Industry
United Benefit Advisors (UBA), the nation's leading independent employee benefits advisory organization, is pleased to announce its continuation of the highly successful UBA University Producer Academy. Launched last year, this type of training is the only one of its kind being offered at this high a caliber in the country.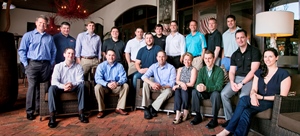 Last year's inaugural program was so popular that registration for this year's academy sold out within days of being offered. For 2015, the training process has been fine-tuned from last year while still turning good producers into great ones and great ones into industry leaders.
"One of the reasons that so many UBA Partners have embraced the UBA University Producer Academy and come on board is because of the success of this program and that UBA is forward-thinking strategically," said UBA CEO Les McPhearson. "When we started, we knew there was a desire within the industry for such high-level training, but there was no other organization offering it to this level. UBA took the lead in this regard and our intensity and focus on improving the producer has never been greater. Programs such as this continue our values of integrity, collaboration, care for others, innovation, and operational excellence."
For 20 select producers from UBA Partner Firms, the UBA University Producer Academy provides tailored training by the International Foundation of Employee Benefit Plans (IFEBP) and UBA's own successful Partner experts.
Thomas P. DeRoche, Director, Educational Programs at the IFEBP said, "The International Foundation of Employee Benefit Plans and the National Alliance for Insurance Education and Research have been proud to provide the academic content for the UBA University Producer Academy for the past two years. The comprehensive curriculum, combined with the support of UBA's leadership, has created a meaningful learning experience that is relevant, fun and produces results in the field. This program is a winner!"
The rigorous program includes four weeks of on-location face-to-face training, six webinars, and exclusive ongoing access to Producer 'PowerPaks' -- a one-on-one workshop gathering (online, via phone, or in person) of the group that will continue indefinitely as a way that alumni can rely on each other. Sales coach and consultant training from May to September will be multi-faceted and include carrier training, Strategic Partner training, and an industry leader component (e.g., CEOs discussing how they got here, what they've learned, etc.).
UBA Vice-President of Business Development, Matt Kistler said, "Based on the responses we've received from our sponsors and participants, we have solidified UBA's reputation as having one of the most elite producer training programs in the industry. I'm especially proud of the fact that our sponsors, who saw their investment in this agency model as the best way of giving back to the industry, were so eager to join this first-class program. The title sponsor of the UBA University Producer Academy is Guardian Life Insurance Company of America. The academy's other sponsors are HRPro and HealthSmart."
"Guardian is delighted to be the title sponsor for the 2015 UBA Producer Academy and was very impressed with the quality and the depth of the UBA professionals who attended the recent training meetings in Celebration, Florida," said Guardian's Vice-President of Strategic Alliances, Michael F. Byrne. "Guardian recently polled business leaders from local and national employee benefit brokerage firms about the top challenges facing their firms in the next 12 to 18 months and recruiting and developing new employee benefit producers was the #1 response with 77% of respondents choosing that as one of their top three priorities. We believe that the UBA Producer Academy is a well-designed strategic initiative that addresses this important opportunity that Guardian is proud to be associated with."
Rob Teas, Senior Vice President, Sales, East Region at HealthSmart Benefit Solutions said, "HealthSmart was delighted to participate at UBA's Producer Academy. The sponsorship represents our commitment to UBA and provided us an opportunity to convey our passion: self-funding medical and related benefits for employers of all sizes. As the nation's largest independently-owned TPA with a dedication to clinical integration and outstanding service, HealthSmart viewed the session as a key step to working closer with UBA participating Firms in order to find customizable and cost effective solutions for their clients. Moreover, the group of individuals was highly engaged, which created an enjoyable learning environment and spirited dialogue."
Participants in this year's sold out program have been extremely pleased so far with the training they've received; heaping praise on the UBA University Producer Academy.
"The UBA Producer Academy was invaluable! The time spent not only broke down the technical aspects of health care reform and benefits, but also gave me a refresher in sales strategies," said Pamela Johnson, AMCORP's Benefits Advisor. "My newfound resources of my 'classmates' is priceless in that I have a network of producers, like me, to share ideas, learn new approaches to sales, and have a connection to peers I could not get anywhere else."
Jeff Minuto, Benefit Advisor at Cornerstone Group said, "Coming into the week, it was a wonderful opportunity for me to attend the UBA Producer Academy. This program afforded producers the ability to collaborate with peers who are in the trenches across the country and talk about best practices and utilize all the resources as a group to make a good, solid foundation which we can share. The program as a whole was excellent! It really nurtured and allowed us to learn some great techniques from proven industry veterans both from a sales and service platform as well as really high-level product knowledge spanning all levels of coverage. One of the best takeaways, for me, was the ability to be in that environment and brainstorm in a think tank-type setting while bouncing ideas, successes, and failures off of the group from which we were all able to learn and grow. I also know that I will benefit from maintaining these relationships that were developed during that week and a half and to know that I can build upon them."
"I just spent 10 days at the UBA Producer Academy and came back to my role at EBS Capstone with a ton of information from subject matter experts, fresh sales techniques, wisdom from other producers that I will never forget and, most importantly, newly formed friendships with some great people and professionals," said EBS Capstone Business Development Manager, Joe Moran. "Whether you are new in the business, have a few years under your belt, or are an old pro this is time well spent. It was a great idea to establish this academy from an organization that always seems to help its Partner Firms make a difference in their respective territories. Matt and his team did it right, made it easy, and created a great environment for all of us to learn."
Kristen Parrinello, Benefits Adviser at LBL Group said, "Before I attended the Producer Academy, I struggled with filling in the awkward silences at prospect meetings. After running through scenarios and case studies, preparing a list of questions to fill in gaps, and learning from the experience of our classmates, my first meeting after our first session was a success. Because we practiced so much, and all of us had dealt with similar situations, I had a new found confidence with prospects."