Clear Vision of Innovation, Collaboration, and Motivation
Will Drive the Future of UBA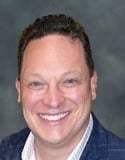 United Benefit Advisors (UBA), the nation's leading independent employee benefits advisory organization, announces new President, Peter Weber, a seasoned health insurance executive with more than 20 years of leadership experience. Weber will serve as President effective immediately and be based in the company's Chicago office.

UBA Board Chairman, Scott Deru, says, "Peter comes to UBA with immense experience in board governance, staff development, strategic planning and execution, plus process innovation. As UBA faces upcoming challenges, Peter has a proven track record of leading organizations such as ours, and is committed to assuring that UBA and its Partners not only survive, but thrive in our evolving markets."

Prior to joining UBA, Peter had six years' experience while serving as President of the Health Insurance Trust for the Illinois Association of School Boards and concurrently as the staff liaison to the Workers Compensation and Property and Casualty Trust for the same association. He has held an executive director position for the past 20 years and has demonstrated his ability of helping organizations reach their greatest potential. Peter also has extensive experience in training, writing, and public speaking, and has won numerous state and national awards for his efforts and expertise in a variety of areas. A Certified Association Executive, Peter received his Bachelor of Arts at Knox College, and his Master of Science in Education Administration and Political Science from the University of Illinois.

"I am very humbled, yet excited, to join the UBA staff. My goal is to help UBA continue to lead the benefits industry with a united vision, collaborative work ethic, and effective communications," says Peter Weber, President of UBA. "While we must respect tradition, we will also strive for innovation. UBA is the only organization that can see through the fog and create a clear vision for the profession, create brand opportunity, and empower every UBA Partner to better serve their clients."

As the newest employee of UBA, Peter joins a network of employee benefits advisory firms that serve employers of all sizes across the United States, Canada, and the United Kingdom. As a combined group, UBA's annual employee benefit revenues rank it among the top ten largest global employee benefits brokers.